Where is Wyoming?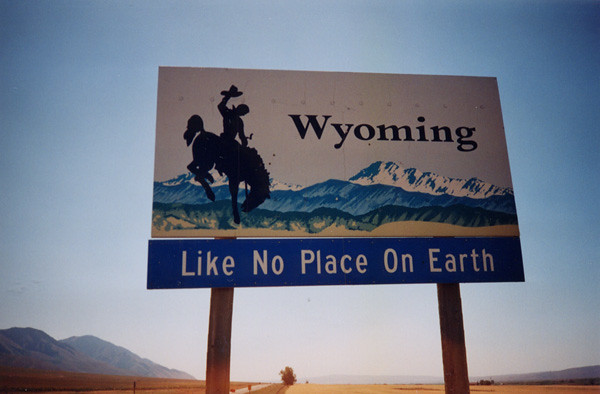 Posted September 21, 2021 by Maureen Metcalf
Our Move
Moving at the age of twelve from New York to Wyoming felt like a whirlwind. Everything I knew was changing: our parent's divorce, new school, new friends, new home, new neighbors, new state…nothing would be the same.
Was Wyoming even a state? I didn't recall ever hearing about Wyoming or even seeing it on the map, yet in what felt like a moment's notice, we were loading into our little red car with my mom and three younger sisters. My two older sisters had flown ahead. It was a long trip, but it helped that I was not alone. 
We drove with our windows down, probably because we had no A/C or needed to save on gas. The speed limit was likely 60mph. My mom seemed fearless to me. I was always impressed with her ability to navigate the traffic in New York, weaving in and out of heavy traffic. Yet, driving four of her daughters across the United States to an unknown destination seemed even more fearless. We moved in October, it was sunny with blue skies the day we pulled into our new hometown. We listened to mom's cassettes of Maranatha singers, John Michel Talbot, Steve and Annie Chapman. and possibly some Amy Grant if I had my way. 
Our Arrival
Why Wyoming? Mom had a friend with a ranch in Wyoming who told her Wyoming was like no place on earth. Wyoming really was like no other. We were moving to a city and rental house we had never seen. Pulling into our new  hometown, I quickly recognized the contrast from the East to the West. The warm, dusty air blew my hair back. I rolled the window up because the road had turned to red shale.
There was no traffic, a lot of pickup trucks, sparse trees, and little cultural diversity. People shook hands instead of kissing on the cheek to say hello. These were my first impressions.
We had lived most of our early years in New York and Pennsylvania, and it didn't seem us girls had an accent, although others noted they thought we had, but our mom sure did, and still does. Both of our parents were born and raised in New York and our father resides back East. We used words like soda, sneakers, and tissue in the east that differed from pop, tennis shoes, and Kleenex in the west.
Change
The contrast between New York and Wyoming on a communication level was even drastically different. Back East it was complementary to talk loud and fast; interrupting indicated you were engaged in the conversation. In the West everything moved at a slower pace. There was less animation in conversations and interrupting was often perceived as rude. I am animated, talk fast, and when passionate and engaged will often interrupt. I don't kiss people on the cheek, but compromise by giving warm hugs.  
Our Eastern roots and Wyoming experiences have given us wings to explore many opportunities, raise families, and be surrounded by the wide-open spaces of God's beautiful country. Life circumstances may start a certain way and possibly not in a good way, but that isn't the end of the story. Change is hard, at all ages and stages of our life, but we persevere; keeping the faith and hope that things will get better. We create new opportunities and find out that we are stronger than we believe we are. 
Have you experienced big changes in your life or even a small change that has felt drastic? How did you overcome it? Sometimes we plan change and other times it is thrust upon us. My hope is that whatever change you may experience, you trust something better may be waiting on the other side of change. It is hard to believe in the middle of pain and sorrow that there is a purpose, but even in the most uncertain times knowing we are not alone gives us strength. We must not remain victims of our circumstances, but work to become warriors with the hope that we can overcome them.
As a twelve-year-old, I overcame what felt like drastic changes in my life, but without that change I would not be a Wyomingite with all the precious memories built in this place since that time. I am realistic in knowing adjusting to change is not always easy, but the fight is worth it. 
I am encouraged that my hometown has more trees, is increasing in cultural diversity, and yes there are still many pickup trucks. The whirlwind roadtrip in the little red car created the change for new hope and opportunities. I was born in New York, but my home and heart resides in Wyoming.